Problem
With previous research, we identified that there were a lot of people who attended events by buying their costumes and there were also a lot of people who did not want to spend a long time with research for their next cosplay. We needed to find a solution that allowed people to find and buy the items they wanted without spending too much of their valuable time.
Solution
After a brainstorming session, Cosplay Watch started to form as a product. The main purpose of the Cosplay Watch would be to inspire cosplayers and help them identify their needs for a cosplay. We would design pinnable cards that would include all the elements that are necessary to cosplay a specific character, providing a visual shopping list. Also to allow cosplayers to easily buy all of the items for that cosplay, all of the elements would be displayed with their prices. The same would apply to the blog of the portal, allowing cosplayers with an option to buy other items that they might need for the hobby. Aside from the cosplay ideas that would be published on the website weekly, friday would be the day for the casual cosplay. And that would allow cosplayers to bring their favorite characters in their daily lives. Also, they would have an option to subscribe to a newsletter list that would allow them to get those ideas in their inbox.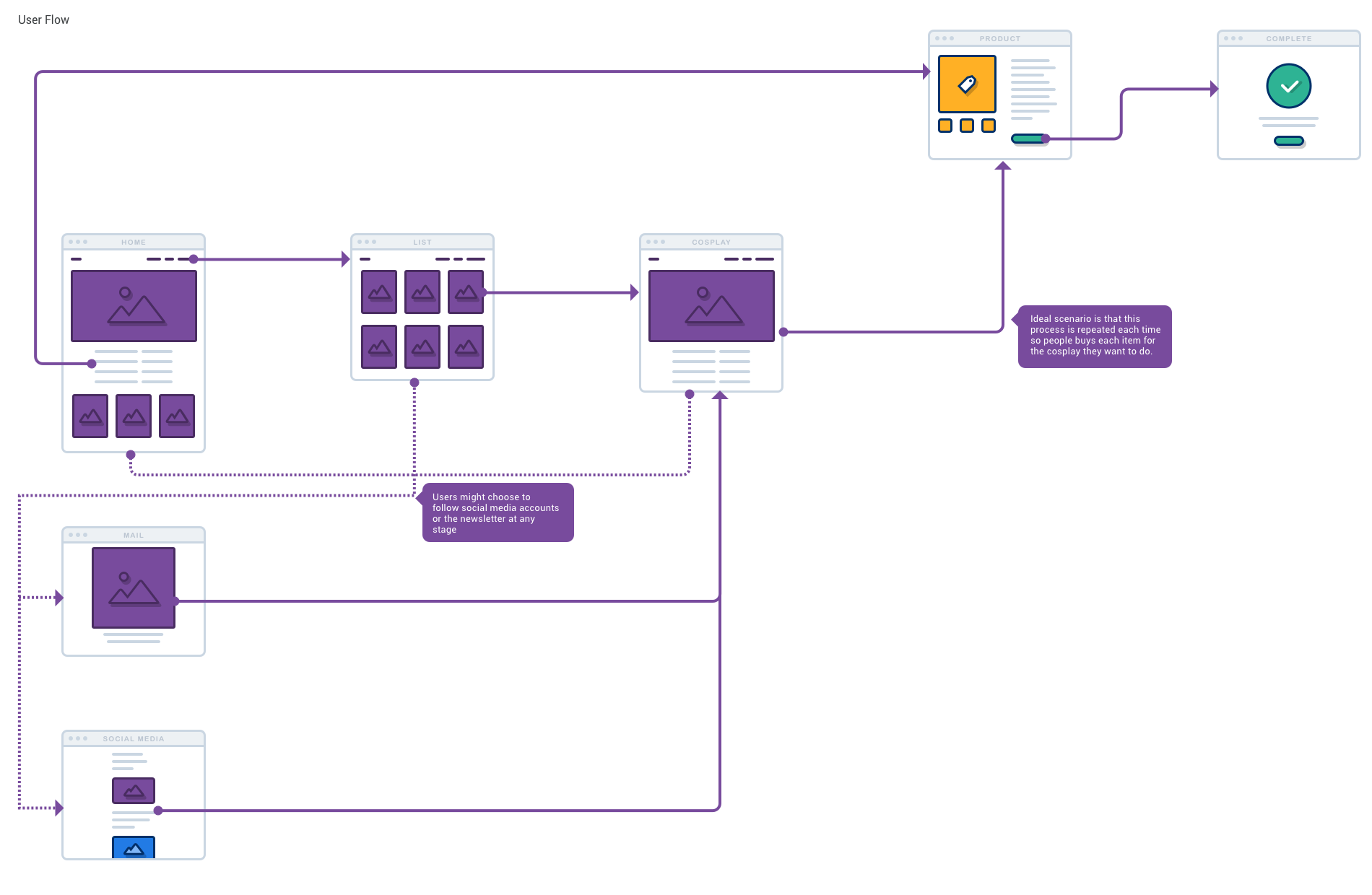 Research
We were able to identify cosplay lovers that were also busy with their own lives. There were people who wanted to attend events, at least the ones nearby and needed costumes for each event. But due to their busy lives, they sometimes didn't even have the time to find the right items for the character they wanted to cosplay. There were also a lot of young people who loved cosplay but didn't know how to get started and we found out that their parents would help in those situations.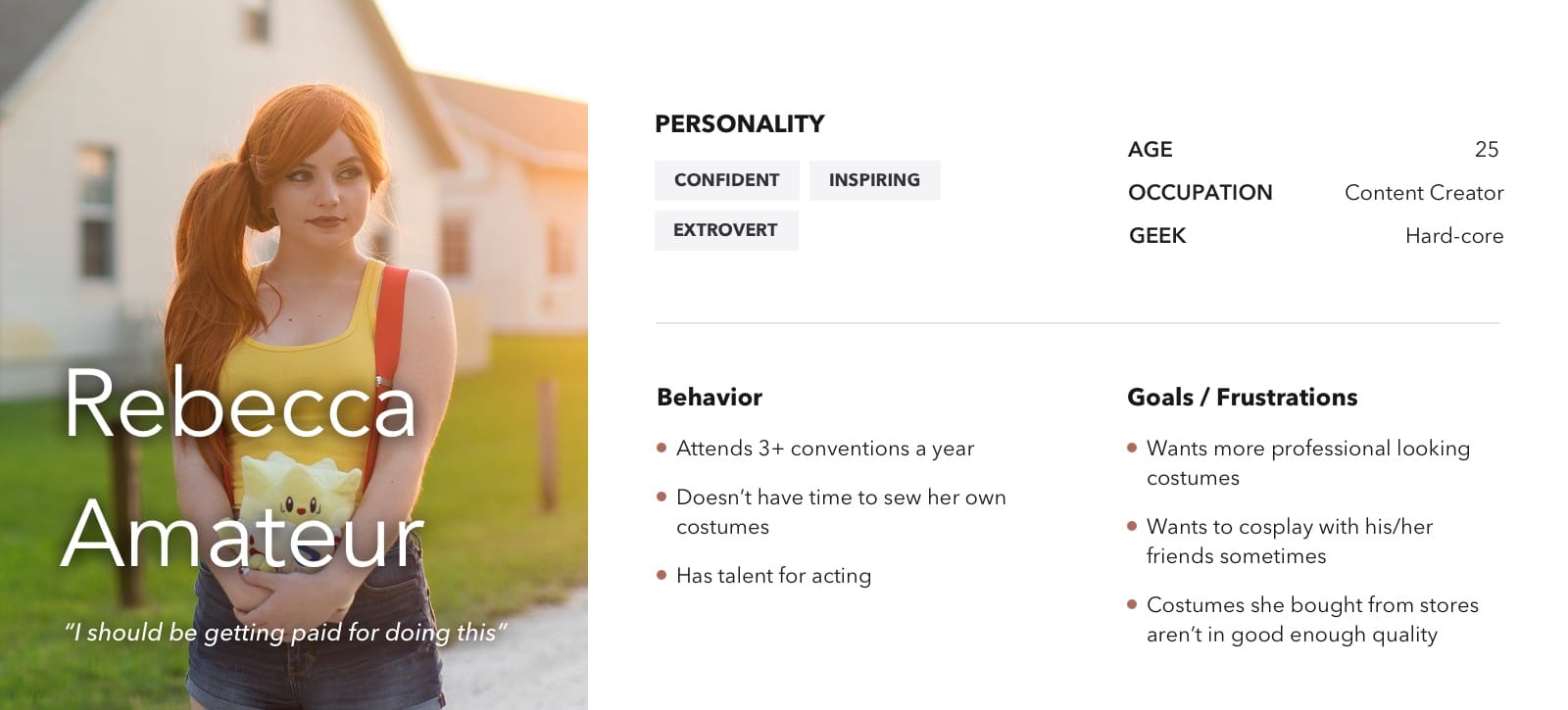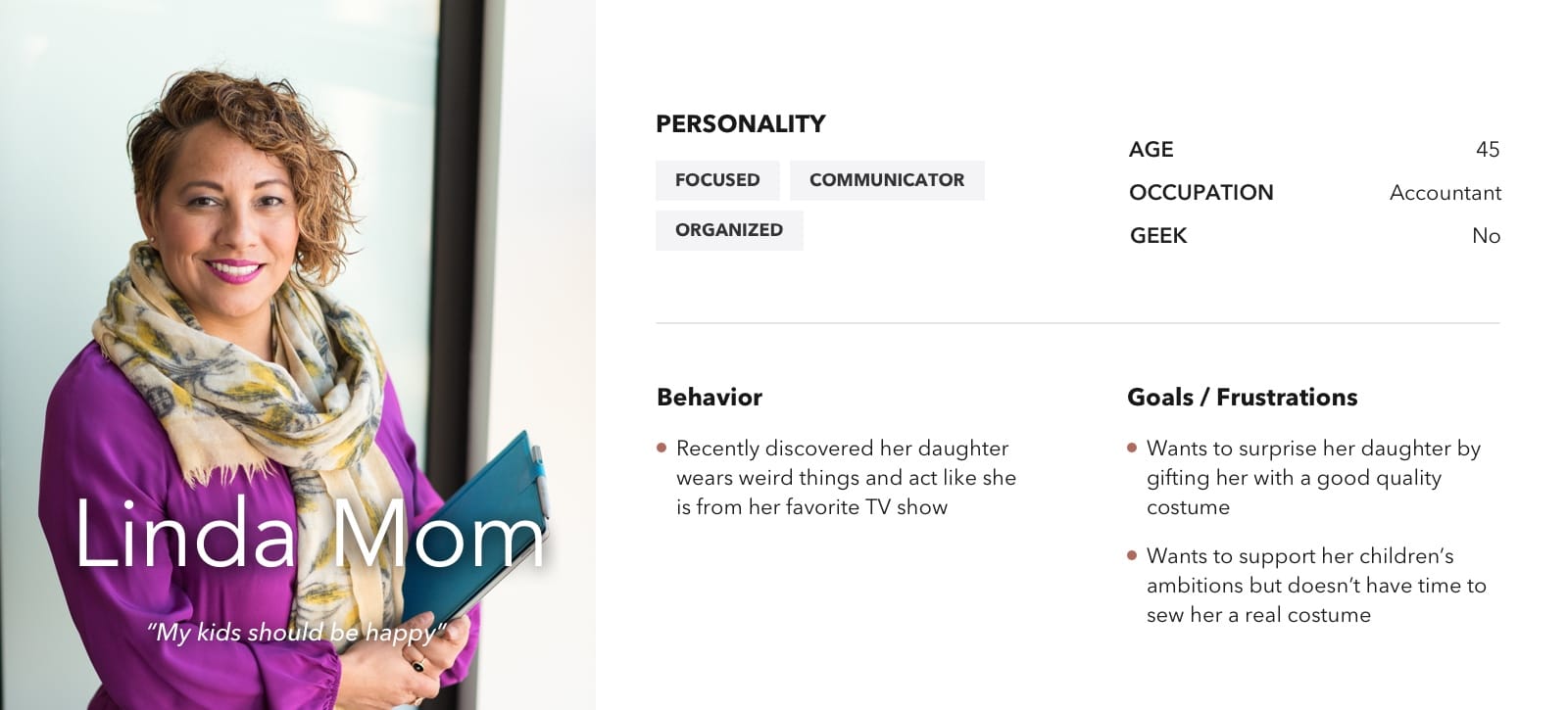 Results
With branding in place and website live, it didn't take us a long time to see that we were on the right track. People with the need for finding their items started visiting and purchasing their costumes. Pinnable easy cosplay shopping cards soon started to serve its purpose by finding their way into Pinterest boards of visitors.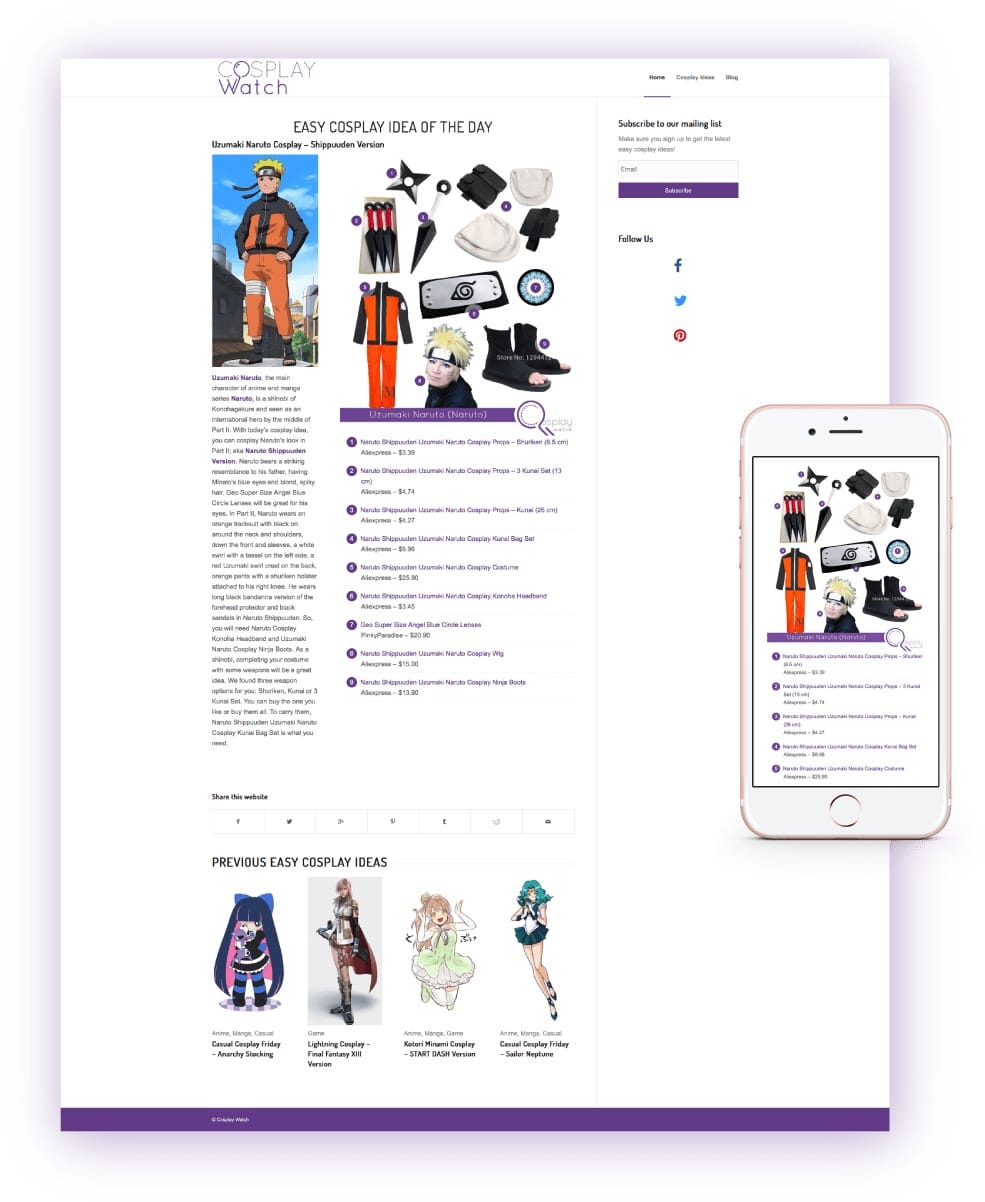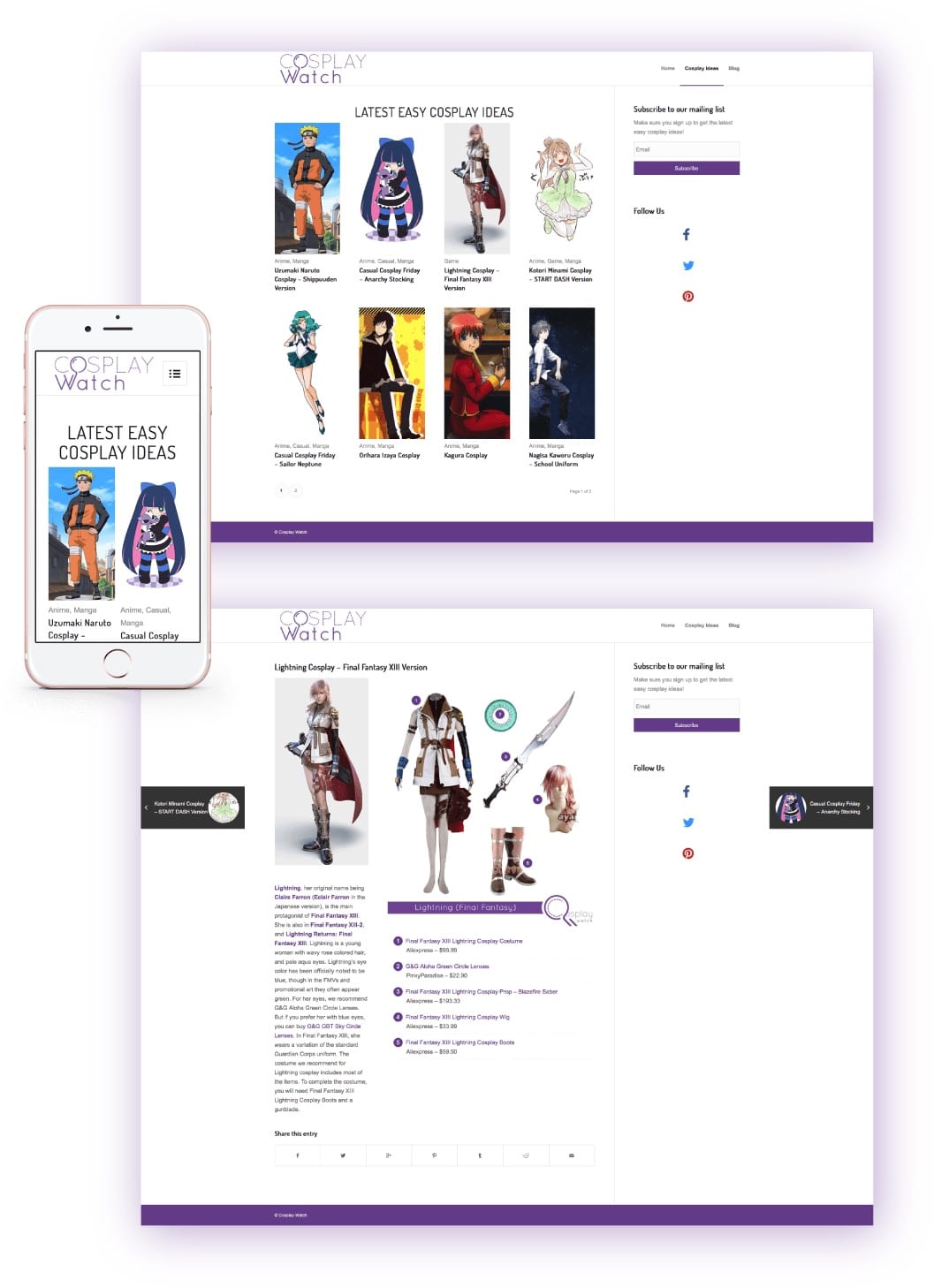 Pinneable Easy Cosplay Shopping Cards
Pinnable cards were the main element of Cosplay Watch. Cards were designed to show all items that are needed for any specific character, creating a visual shopping list. Under the cards, who that character was and which show they were from would be noted. This would allow the cosplayers visiting the cards to pin the cards on Pinterest and they would be able to see every detail when they wanted to cosplay that character.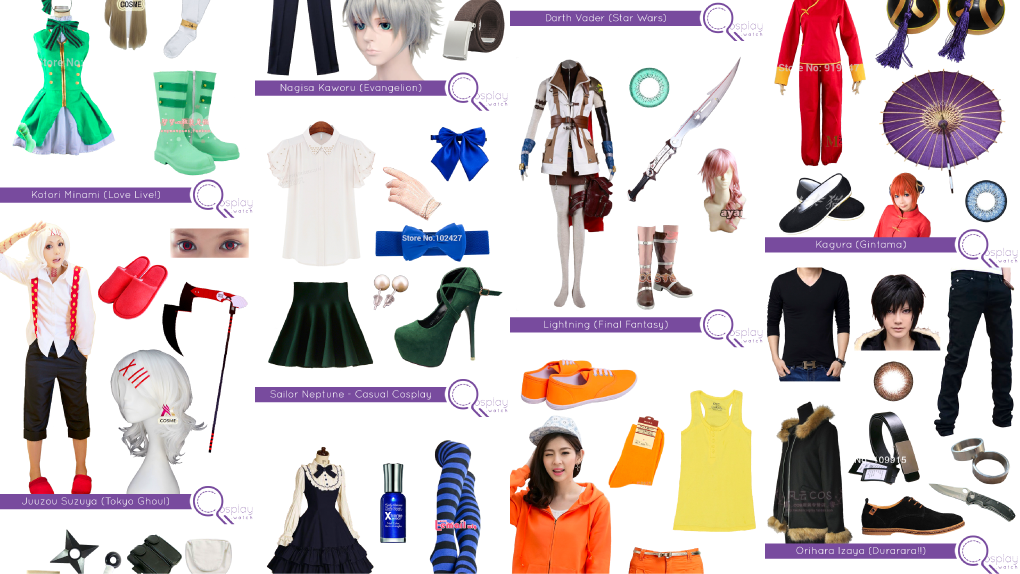 Branding
Making things easy for cosplayers was Cosplay Watch's whole purpose, easy was the word to focus on. And it would be focusing on young people, it needed to be a lively and modern brand.
With a brand language focusing on easy ideas, the slogan would show how practical brand would be for the users:
"Everything You Need For Cosplay"